Upon a request from my mentor/teacher/friend Paul Ching-Bor, I talked about my paintings in front of the students at the Art Student League of New York, where I still study and work as a teaching assistant. It was a small crowd, probably less than 30 people, but still I was a little nervous since I had never talked about my art works in public. In addition, although I mentally prepared for it, I did not physically prepare anything, no notes or no cheat sheet. Fortunately, it turned out to be an unfounded fear.
After the introduction by Paul, I briefly explained my background, followed by my journey of "housescape painting," which started in Poughkeepsie, NY...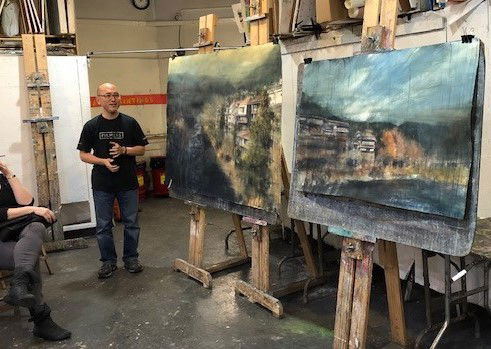 "How do you choose the subject?"
"Why do you apply that specific technique?"
"What was the challenge in this work?"…etc.
I received a lots of questions or comments from the students (most are senior than me, some are as old as my parents!). I found that answering those questions helped me to clarify my thought of painting. Some say, teaching is learning. I would say, talking is also another form of learning. In short, it was a very beneficial session to me and (I hope) to the students.